Cert of Identity and Boundary Checks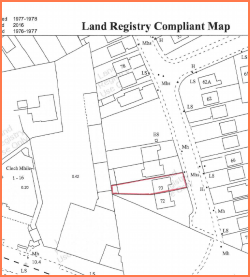 Certificate of Identity
When selling your home, you may need a map prepared that legally defines the extent of the property, particularly if the property has never previously been registered with Land Registry, or if the existing Land Registry Folio is being extended or subdivided.
This mapping can be known by a number of terms:
Certificate of Identity
Declaration of Identity
Compulsory First Registration
First Registration Map
HomeCheck Engineers and Surveyors visit the site and accurately define the extent of the boundaries.
This map is prepared for the Land Registry if the parcel of land has not already been registered.  The Land Registry will assign the land area a Folio Number that is the unique identifier for your property.
HomeCheck can provide the map your solicitor requires for conveyancing. Please fill out the form below, or call (091) 441 692 for a quote.
Boundary Checks
For home buyers, a boundary survey or boundary check is an examination of the Land Registry map provided for sale. The purpose of the check is to ensure that the boundaries of the property correspond accurately with those on the maps provided as part of the sale documentation to your solicitor.
HomeCheck can provide a boundary check on site while a pre-purchase survey is carried out, or independent of the pre-purchase survey. Please fill out the form below, or call (091) 441 692 for a quote.
We aim to reply to quotes within a few hours during the business day.